Comparison of Total Taxes Collected, Of Central Ontario Municipalities, 2016.
Arthur Gron
March 27th., 2018.
This data is compiled using the Ontario government's Financial Information Return's as collected by the Ministry of Municipal Affairs for the year 2016.
Revenue through taxation includes property taxes and school board taxes, as well as any other taxes levied. This plot does not include user fees.
The total amount of revenue collected by a region includes the tax revenue by the overall regional government and its municipalities.
| | |
| --- | --- |
| Region | Tax Revenue |
| Toronto | $6,150,732,682.00 |
| Peel | $3,719,594,624.00 |
| Durham | $3,429,664,795.70 |
| York | $3,402,072,741.00 |
| Niagara | $1,202,090,331.72 |
| Hamilton | $1,035,874,825.00 |
| Simcoe | $1,029,822,305.00 |
| Muskoka | $296,941,611.40 |
| Dufferin | $154,341,211.00 |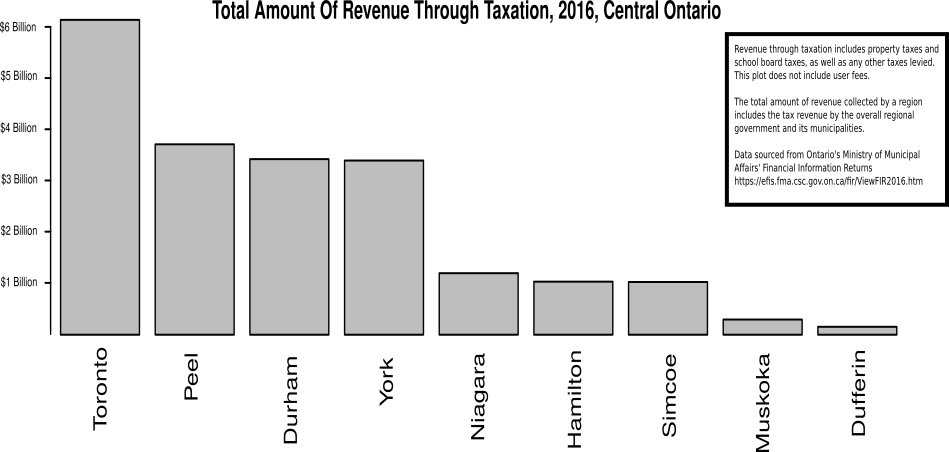 Bibliography
The Ministry of Municipal Affairs. (n.d.). FIR Data By Year - .CSV Format / Les donnees du RIF par annee - format .CSV. Ontario. Retrieved from https://efis.fma.csc.gov.on.ca/fir/MultiYearReport/MYCIndex.html